Small seed planter hand seed planters corn seed planter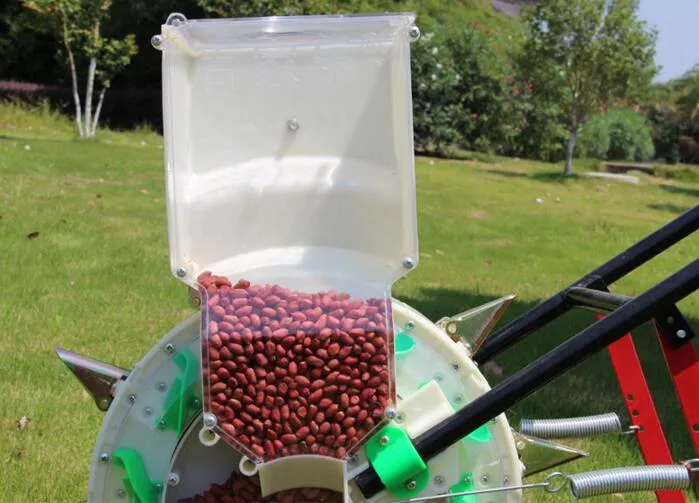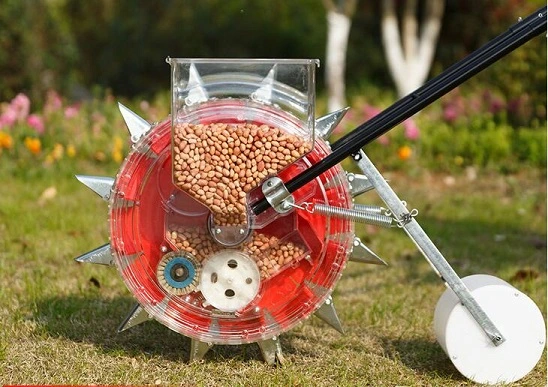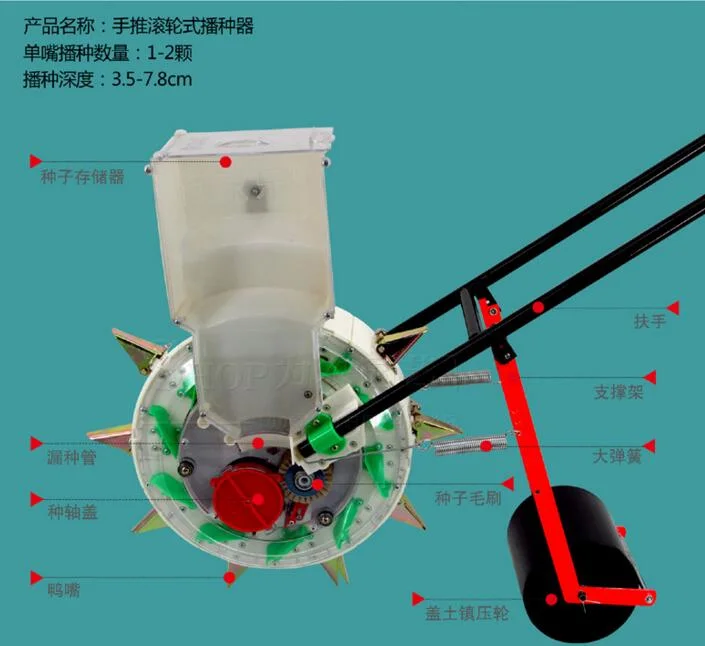 Main Technical Parameters
| | |
| --- | --- |
| Model | AM-001 |
| Seeding depth | 5-6cm |
| Rate of Accuracy | 98% |
| Row number | 1row |
| Seed to seed distance | 32cm |
| capacity | 0.1ha./h |
| depth | 65mm |
| Seed topography | plain,mountainous areas,hills,flat,mulch film |
1 According to the needs of farmers, our factory has developed hands push wheeled corn planter after
years of experience.
2 This planter has become a successful product after two years' practice.
3 It is prolonged and durable.Sowing accurately
4 Sowing unanimously and buds come out unanimously
5 The efficiency is two times higher than portable planter
6 Nicer shape and more durable
7 This product is a qualified one after verified by State Bureau of Technical
Precautions
1.When using with a coating of seeds, fossils must be mixed with 0.5% or 0.2% lead
oxide powder coating agents do a good job in the post and then into the seed box .
2.Soil wet or rain to pay special attention if a foreign body within the nozzle son.
3.Matching species should seriously by seed round .
4.Non- running, pull down , push down ( rotation direction of the arrow )
5.Seeding rate must be controlled , the proposed 35-40 meters per minute.
6.The seeder is strictly prohibited as such as children toys free push and touch
the gear to avoid damage and injury.
7.Seed grain tank capacity of not less than one third .
8.Please strictly running in the direction of the arrow seeder seed box side when in use.
9.When they find significantly reduced the use of seed per acre amount ,
please check for obstructions or other failure , so as not to cause you loss.
10.Spare kind of wheels and accessories and then put inside the box .
11.Adjust spacing , when removing the assembly must remember good order,
carefully aligned prefix fixed good ( 0 want to pay particular attention to the positive sides )
12.All dimensions are factory supplied with the seeding rate , please prevail by seed
and seed distance , if the error rate should be changed promptly .
13.Appearance and technical standards of products, subject to the actual appliance
factory have the final interpretation.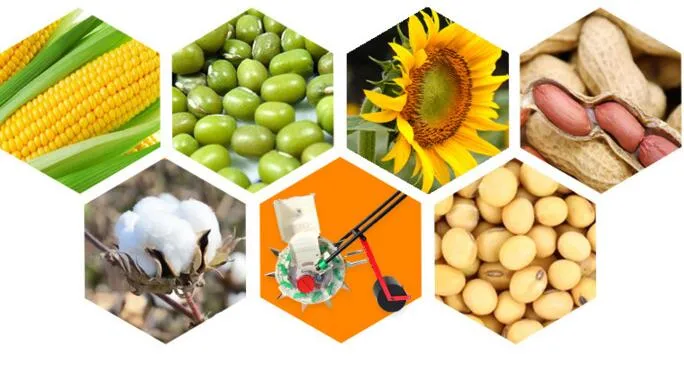 Why Choose ACME?
(1) 10 years Garden Machines Manufacturing Experiences.
(2) Quick and Sate Delivery.
(3) Experienced Service Team.
(4) 24 hours On Line Customer Service.
(5) Provide OEM and ODM Services.
(6) High reputation in More Than 60 Countries.
(7) Full range products for choice.
(8) Competitive Price Attractive Design, best performance High Good Quality.
Product After sales service
1: 12 months warranty policy;
2: We will send Free of Charge spare parts replace the detective or broken parts in the next order;
3: Choose the cheapest and safest shipping company to save the cost;
4: Track the order until you get the goods;
5 : Protection Of your sales area , ideas Of design and all your private information.

Please feel free to contact us if you have so much interest