manual vegetable planter vegetable seeds sowing seeding machine
Suitable seeds for sowing seeds
:
Carrots, cherry radish, white radish, carrots, beets, Onions, spinach, cabbage, green bamboo shoots, lettuce, celery, cabbage, Chinese cabbage, baby food, vegetables, chili, shallot, potherb mustard, sesame, rapeseed, Chinese little greens, broccoli, rape seeds, millet, soybeans, medicinal herbs and other small particles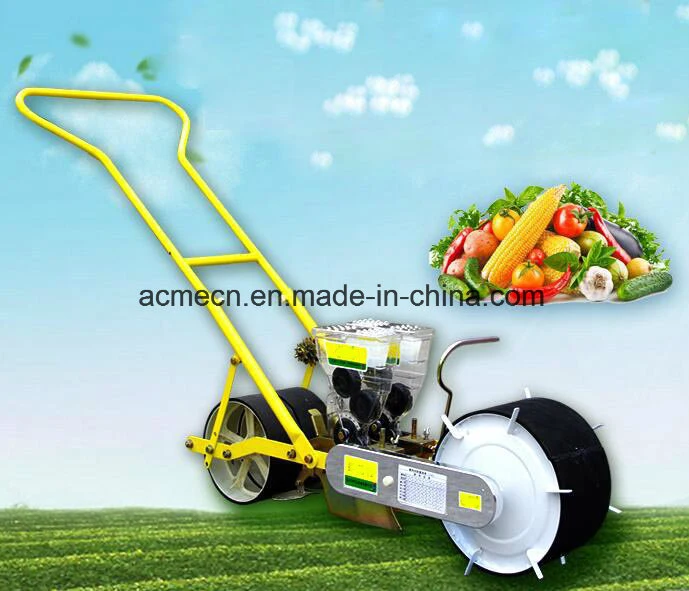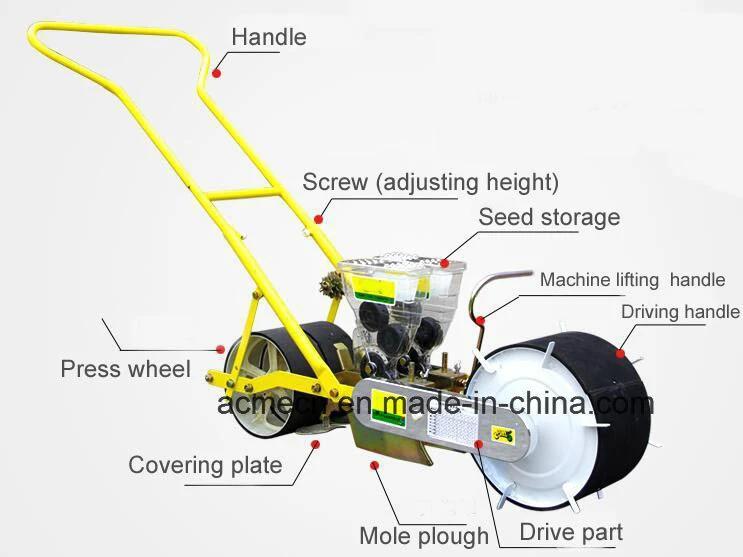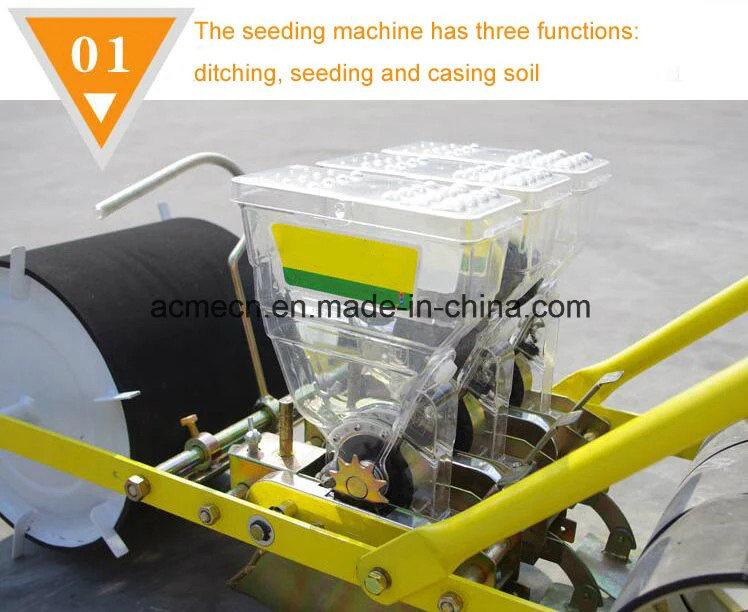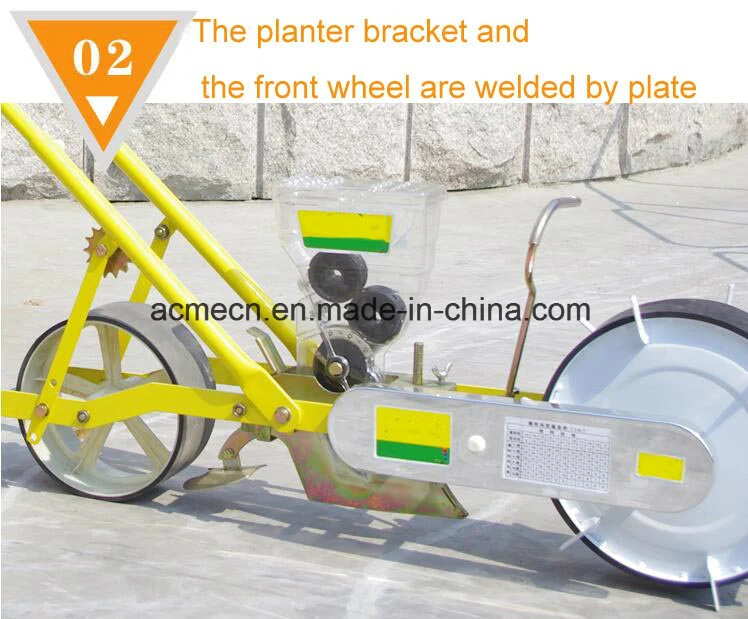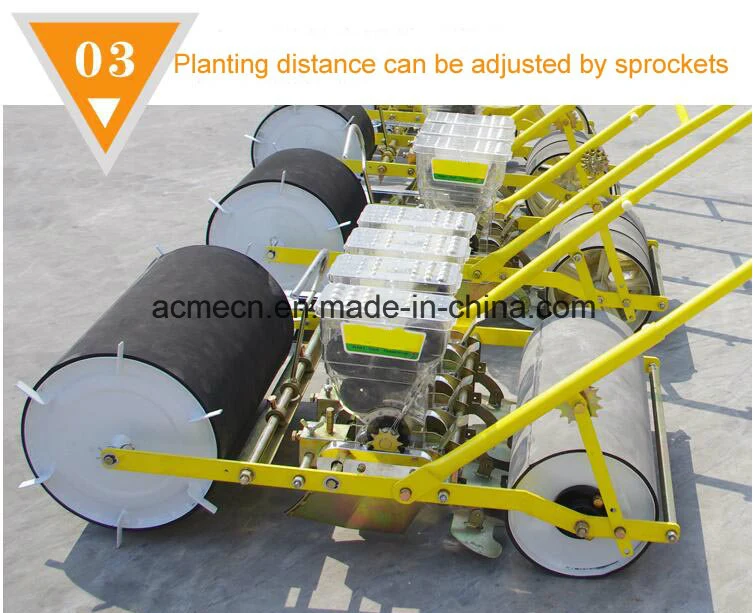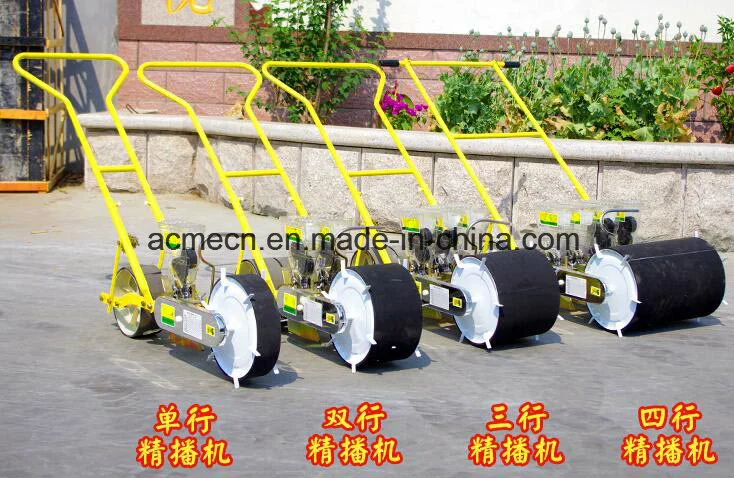 Features.
1. Quick and easy way to change a roll to plant various seeds.
2. One-touch lever to release and attach a hopper
3. Clutch bearing system for not seed's falling when going backward
4. Convenient adjustments to seed spacing by changing sprockets.
5. Excellent contact with grounds
6. Distance between rows: 8cm~15cm
The seeding machine has three functions: ditching, seeding and cladding
The precision sower can realize to seed above a film and under the film and has the advantages of simple
structure, reliable operation and uniform plant distance
Technical parameters of seeder

item

unit

Technical parameters

Model

ACM-

B

1

ACM-

B

2

ACM-

B

3

ACM-

B

4

External dimension

cm

136*18.5*88

136*27*88

136*27*88

136*50*88

front wheel width

cm

7

16

24

40

rear wheel width

cm

9

20

29

43

weight

kg

10.6

14.55

18.75

26.2

row number

1

2

3

4

row spacing

cm

Unlimited

8-15




adjustable

8-11 adjustable

8-113.5




adjustable

max row spacing

cm

Unlimited

15/22

22

40

Seeding planting distance

cm

if you cooperate with the corresponding seeding wheel

,




Seeding planting distance can be adjust 1-51

seeding depth

cm

0-3

Drive Mode

sprocket

work efficiency

mu

about 1.2

about 1.8

about 2

about 2.5