Mini crawler remote control lawn mower grass blade Robot Mower

Automatic intelligent mini crawler type lawn mower
1, Preparation before starting the remote control mower
(1)Be sure to confirm the tightness of screws of all parts before starting up.
(2)Turn on the machine power key switch, pull back the right control lever and hold it, then press the switch key of the remote controller to turn on the remote controller.
(3)When the remote control is turned on, a "drip" will appear, indicating that the machine matches the remote control normally.
(4)engine starta,Release the brake on the right side of the engine (also disconnect the flameout switch);
b,Turn the left throttle counterclockwise to the end (so as to open the engine throttle at the same time);
c,Pull hard on the pull rope of the hand pull plate to start the engine;
d,Adjust the throttle to the proper speed in time after starting the engine;
e,Operate the remote control to cut grass.
2,Remote control description:
D/R switch (large and small rudder): adjust the walking speed of the machine (the factory default is high speed gear) The left joystick controls the machine to walk forward and backward, and the right joystick controls left and right turns 5 Channel (two-stage switch):The cutter head rises and falls to adjust the cutting height of the cutter head.
Rudder fine adjustment (left-right adjustment): When adjusting the walking speed of the machine, the electronic adjustment in the machine will make a "drip" sound. Only then can the "Rudder fine adjustment" button be used until the electronic adjustment in the machine does not make a sound.Throttle fine adjustment (up and down adjustment): the same principle as the "rudder fine adjustment" button.Power switch: push up to turn on the remote control, and pull down to turn off the remote control.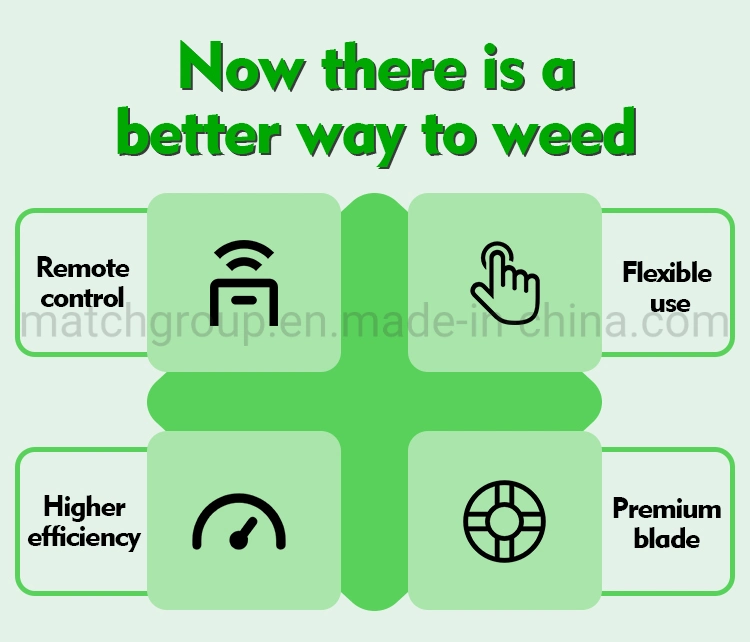 | | |
| --- | --- |
| | Orchard, garden lawn, weeds, embankment slope, etc. |
| | |
| | |
| | |
| | |
| | |
| | |
| | |
| | |
| | |
| | Remote control walking, remote control cutter head lifting |
| | |