Anon Agricultural Combine Harvester Small Harvester 2 rows Corn Harvester Prices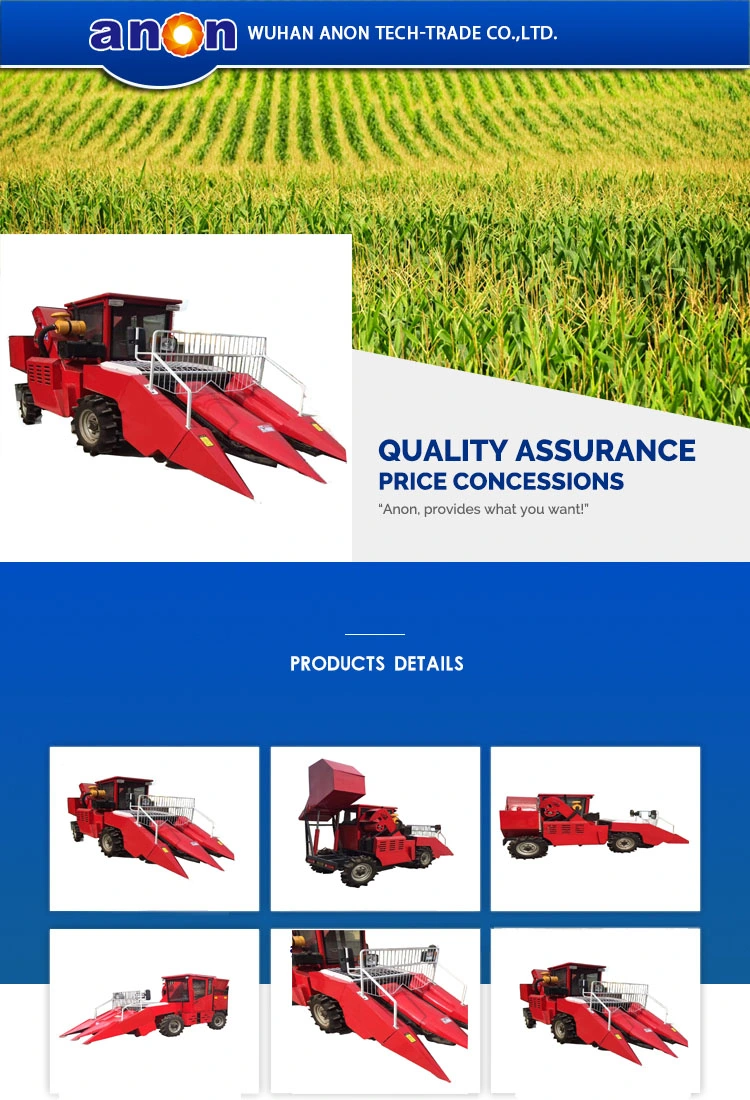 | | | | |
| --- | --- | --- | --- |
| 1 | Typy | / | self-propelled |
| 2 | Type of engine | / | 490G |
| 3 | Rated power | kw | 40 |
| 4 | Rated roted speed | r/min | 2400 |
| 5 | Size | mm | 5200*1540*2300 |
| 6 | Weight | kg | 2630 |
| 7 | Rows | / | 2 |
| 8 | Row spacing | mm | 400-700 |
| 9 | Cutting width | mm | 1400 |
| 10 | Max cutting height | mm | 1700 |
| 11 | Max height of elevator | mm | 3600 |
| 12 | Min ground clearance | mm | 240 |
| 13 | Min radius of transit(left turn) | mm | 4800 |
| 14 | Min radius of transit(right turn) | mm | 4800 |
| 15 | Working speed | km/h | 2.2-5 |
| 16 | Working capacity | ha/h | 0.4-0.7 |
| 17 | Oil consumption | kg/ha | ≤25 |
| 18 | Type of pull stem roll | / | Six arrises |
| 19 | Type of snapping roll | / | pick palte, six arrises |
| 20 | Type of stripping roll | / | Spiral rubber roll |
| 21 | Blade | / | straight |
| 22 | Stripping roll number | / | 12 |
| 23 | Layout form | / | V shape alternating |
| 24 | Wheel base | mm | 2200 |
| 25 | Width of returning to the field | mm | 1000 |
| 26 | Gearbox | / | Mechanical gears turn |
| 27 | Front drive wheel | mm | 1200-1340(can adjust) |
| 28 | Rear drive wheel | mm | 1200-1340(can adjust) |
Anon Agricultural Combine Harvester Small Harvester 2 rows Corn Harvester Prices is mainly used for harvesting maize, sorghum and grass etc. Multi-functions can be achieved at one time, like harvesting, chopping, kneading and blowing silage to trailer etc. It can work independently , or work as a header by being mounted on tractor.
All stalks and leaves are finely chopped and grains pulverized for effective rumination, Silage Harvesters-acknowledged the world over as the benchmark for best chopping quality. The cost-effectiveness of these machines is clear: make more use of your existing tractors, optimize coordination of harvesting operations with transport logistics, just-in-time harvesting to meet your schedule, obtain best silage quality at the lowest cost, plus straightforward servicing
Main advantage:
1. crushing: a roller-type grain breaker using high technology.
1) Grain breakage rate is over 95%
2) Working principle of roller crusher
The double roller is flexible and can be discharged smoothly when entering foreign matter, thereby reducing the failure rate.

2. Super horsepower
Weichan brand super-horsepower 336hp engine,high powerful, fuel-efficient and easy to maintain.

3. Automatic sharpening
With automatic grinding, the quality of the cutting can be continuously guaranteed.

4. Automatic oiling
The Germany technical automatic oil filling system is installed to ensure the bearing life and improve the stability of the machine.
5. Install double hydrostatic drive
The walking system and the feeding system are all equipped with imported double hydrostatic drive, which is flexible and greatly reduces the failure rate.